Geography
The National Curriculum states:
A high-quality geography education should inspire in pupils a curiosity and fascination about the world and its people that will remain with them for the rest of their lives. Teaching should equip pupils with knowledge about diverse places, people, resources and natural and human environments, together with a deep understanding of the Earth's key physical and human processes. As pupils progress, their growing knowledge about the world should help them to deepen their understanding of the interaction between physical and human processes, and of the formation and use of landscapes and environments. Geographical knowledge, understanding and skills provide the frameworks and approaches that explain how the Earth's features at different scales are shaped, interconnected and change over time.
How we meet these aims
Geography is a foundation subject within the National Curriculum. At St Mary's CE Primary, we teach Geography as part of our Creative Curriculum, encompassed within topics. Through our curriculum map we adopt a creative approach fostering links with other curriculum subjects such as Science, History and English, to make the children's learning both exciting and meaningful.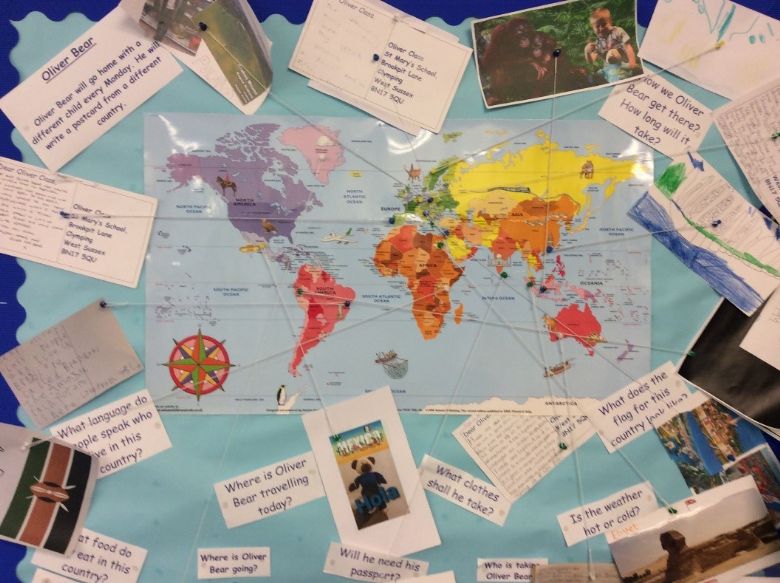 With these aspirations, our intent for the Geography curriculum are:
To help children acquire and develop the skills and confidence to advance their geographical understanding.
To develop an understanding and use of geographical language to communicate their understanding of the world around them.
To stimulate the children's interest in and curiosity about their surroundings.
To nurture a sense of wonder about the world.
To understand the processes that give rise to key physical and human geographical features of the world, how these are interdependent and how they bring about spatial variation and change over time.
To develop the children's knowledge, to encourage a sense of responsibility for the environments and people of the world we live in, so they will think about how it can be improved and sustained.