Vision and values
BELIEVE – GROW – ACHIEVE
MISSION
Our Mission at St Mary's Clymping CE Primary School is:
To educate
To nurture – establishing a sense of belonging
To develop children's faith and spirituality
To be inclusive, celebrating individuality
To serve the community
To improve life outcomes
To develop children's morals and principles
To develop children's life and learning skills, enabling everyone to reach their full potential
VISION
Be strong and let your heart take courage, all you who hope in the Lord – Psalm 31:24
We are a small school with a big heart at the centre of the community. Christian faith is taught, experienced and lived as we seek to provide a firm grounding from which children grow into compassionate, active and courageous citizens in a diverse world. We believe that children should learn in a happy, secure and stimulating environment where a thirst for understanding and the embracing of challenge is instilled. Acceptance, nurture and hope empower each child on their journey of academic, spiritual and emotional growth to dream big and aim high.
VALUES
We believe that every member of the school community has a part to play in the success of the school. Everyone is part of the same metaphorical tree, and together we believe, grow and achieve.
Everything we do is grounded in Hope. Hope is not static or passive. It is dynamic, active, directive and life sustaining, like the roots and trunk of a tree.
Three core Gospel values underpin all we do: Courage, Respect and Service. These are the main branches of our tree, supporting the fruits, and sustaining their growth.
From each branch grow the 'fruits' – demonstrated by everything we do. Each branch will produce fruit through every member of the school community. This is what others see when they encounter our school community.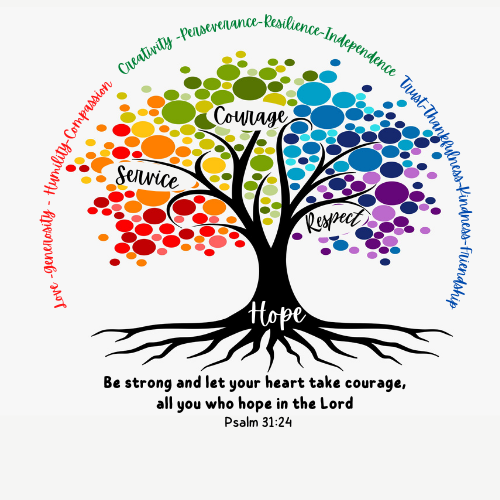 Growing from Respect: Trust, Kindness, Friendship and Thankfulness.
Growing from Service: Love, Generosity, Compassion and Humility.
Growing from Courage: Resilience, Perseverance, Creativity and Independence.
Biblical references underpin our Core Values:

The fruits

What people will see in what we do.

Trust

Kindness

Friendship

Thankfulness

Love

Generosity

Compassion

Humility

Resilience

Perseverance

Creativity

Independence

Main Branches

Gospel values that underpin all we do

RESPECT

Treat others as you would want to be treated

Matthew 7:12

SERVICE

The Son of Man did not come to be served but to serve and give his life as a ransom for many.

Matthew 20:26

COURAGE

Be strong and courageous. Do not be afraid; do not be discouraged for the Lord your God will be with you wherever you go.

The Roots

The source of faith for all we do.

Everything is grounded in Hope.

In the Bible, hope is never a static or passive thing. It is dynamic, active, directive and life sustaining. In other words, a biblical hope is not an escape from reality or from problems.

Be strong and let your heart take courage, all you who hope in the Lord.

Psalm 31:24